---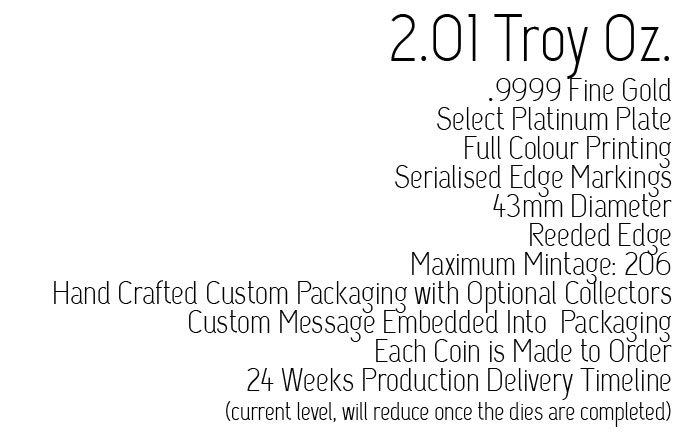 Our Most Prestigious Issue
Beaverworks is honoured to announce our latest and most prestigious endeavour to date: our first gold issue dedicated to the Avro Arrow: 2.01 Troy Oz. of .9999 fine gold with select Platinum Plate with full colour printing and serialised edge markings on a reeded edge. We chose 2.01 Troy Oz. to honour the first Avro Arrow: RL-201. On the outside ring, there are 201 small circles which are present in all of our coins as we started out honouring the Arrow. There are 100 tiny squares around the circumference to honour the 100th anniversary of the formation of the RCAF in 2024. The serial number listed on the side and top of the box will be that of the coin and will resemble the font used on the side of the Avro Arrow aircraft.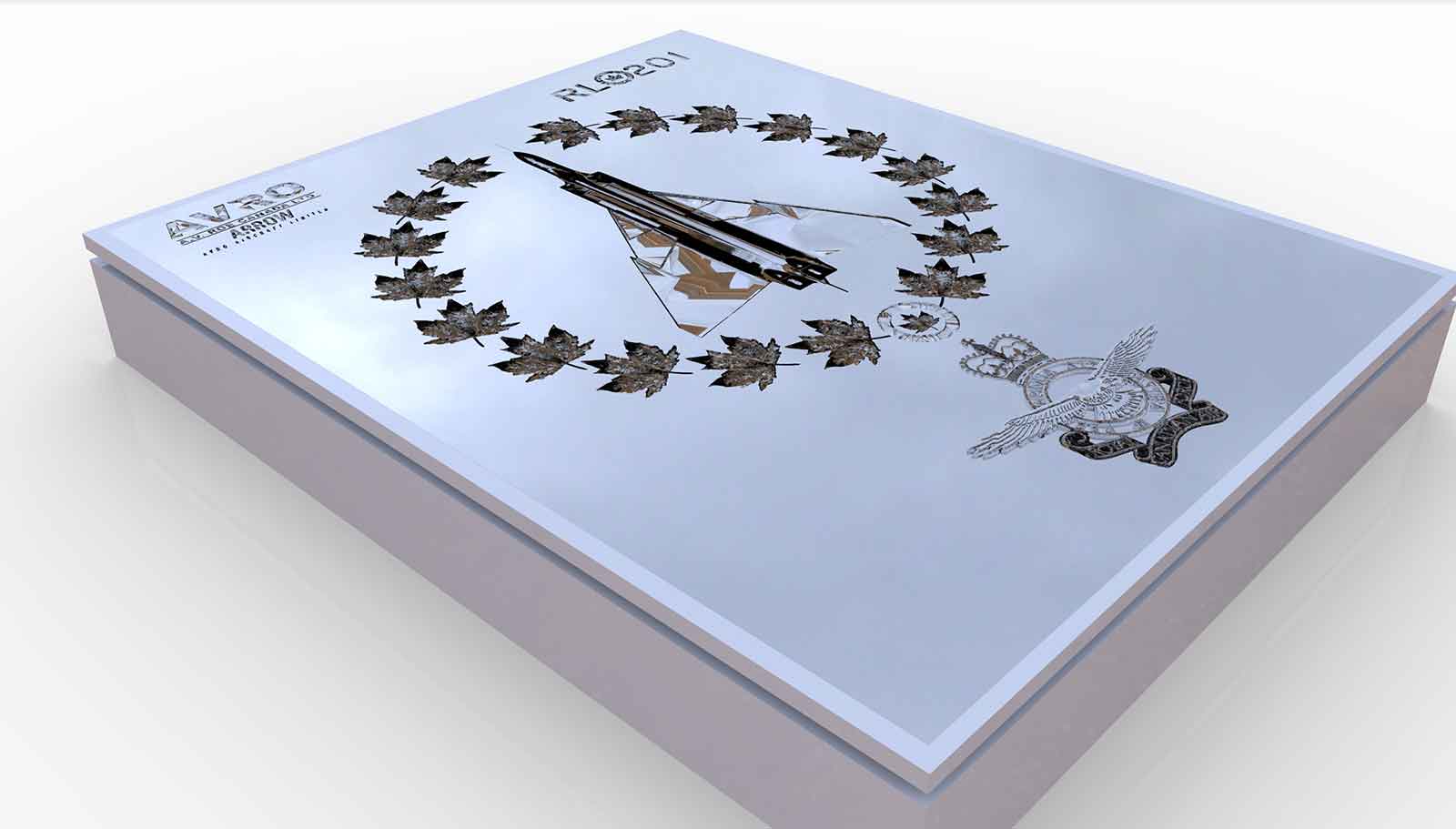 Given the expense of each coin, the tooling and fabrication costs, each coin will be made on a per order basis. Our first expected shipment date of our first Golden Arrow will be for June 1, 2019. Serial Numbers RL-200 will have the wood grain finish, RL-201, RL-202, RL-203, RL-204, RL-205 and RL-206 will have the metallic pearl white finish and they will come with metal box tops from the Arrow program and decaled in a manner which references each coin. Members of the 250 Club may exercise their option to have their reserved serial number placed on the coin along with selecting exterior and interior colour selections.
Since we have announced the Golden Arrow project, we have secured enough resources in order to fund the tooling start up costs and so we will be proceeding with fabricating our first coin shortly to showcase it to the world. Given this and our discussions with our production partners, we have been able to arrange a system of producing this on an individual basis for our collectors, although much more expensive for us, it allows us to produce these small runs for now until we are able to build up a small inventory which will eliminate the time collectors have to wait. Given the nature of this, the purchase price does not cover the actual production costs for initial startup, however given the importance this coin has for Canadian Posterity, this is something that we are investing in order to make this into reality. We love the Avro Arrow, what she stood for, those who engineered, designed, built and flew her. It is our goal to honour her legacy and those who came together in Canadian history to accomplish this magnificent feat of Canadian military aerospace excellence.
Custom Finishes
Given how much you are spending, we want to offer you the right to customise your box
Standard packaging will be finished in either a metallic pearl white resin to reference the skin of the Arrow with the decals applied over the pigment then a clear coat of resin will be applied to lock it in. Resin is chosen for its superior medium of an ultra high gloss finish, ultra durable, scratch resistance and smooth finish. If customers would prefer to see the wood grain of the Birds Eye Maple, then it will be stained, then the decals will be applied, then clear coated. If collectors want an artistic expression of the artist behind this and wish to have their box resemble the fine art that this coin is and which Green can create, then they may choose that option…OR…
"I want an Arid Camouflage with a light tan interior…" Okay. No Problem!
This is an expensive commemoration. We understand that. As such, it is our goal to invest the time, energy, creativity and craftsmanship to allow collectors as much customisation as possible to this package. If collectors would prefer to change the interior fabric colour, exterior colour (both within reason), perhaps to a Navy Blue interior with a flat grey exterior, we can do that. The only way we are able to offer this custom feature is because we are the ones that individually make these by hand and we want to provide all collectors with that option to customise this package to house this golden droplet of the Canadian Aerospace Soul. Each package will be hand crafted by our leader Joseph Green, a well known Canadian Artist currently based in Edmonton and would enjoy any combination of exterior and interior colours our collectors choose. This is the keen attention to detail and personalised service that sets Beaverworks apart from every other mint in the world. We will work with each collector to dial in the exact look and design of their package to absolutely ensure they are happy with it prior to shipment. We are absolutely confident, regardless of colour combination collectors select, it will look incredibly stunning when its finished. We won't ship it unless it does. Digital embroidery looks stunning on all fabric colours! Let us build you your custom package for this Avro Arrow tribute!


Mintage: 206
We originally were going to make this coin and its maximum mintage fixed to time, however after much consideration, we have decided to eliminate any ambiguity and limit the amount to no more than 206 Golden Arrows being minted. Once we have reached 206, the dies will be retired.
Let your words accompany this coin through time as its wingman
"Coin collecting is an ancient passion which often finds itself in the hands of the children of the collectors and passed down from generation to generation. I decided that given the unique nature of this particular coin, I wanted to provide collectors with the option of having their words, if they would like, to be housed along with their photograph, printed off and included within the packaging so that as time goes on, as that coin gets passed down from generation to generation, a piece of them escorts it. Collectors may include a paragraph of whatever they wish, it will be affixed into the packaging so that their words will accompany this magnificent coin and will echo through time and convey their thoughts, hopes and dreams to those who someday may inherit this beloved coin." -Joseph


Pay by Cheque or Finance
Given the nature of credit card fees, this makes it cost prohibitive for a small business to accept payment through a credit card for now. The deposit will be made and our first production run will immediately commence. We are currently looking at a 24 week turn around time, however once the dies have been completed, that turn around time should be cut down substantially. We will advise accordingly.