D

iscover
R.C.A.F HISTORY
TOLD 1 TROY OZ OF .9999 FINE SILVER AT A TIME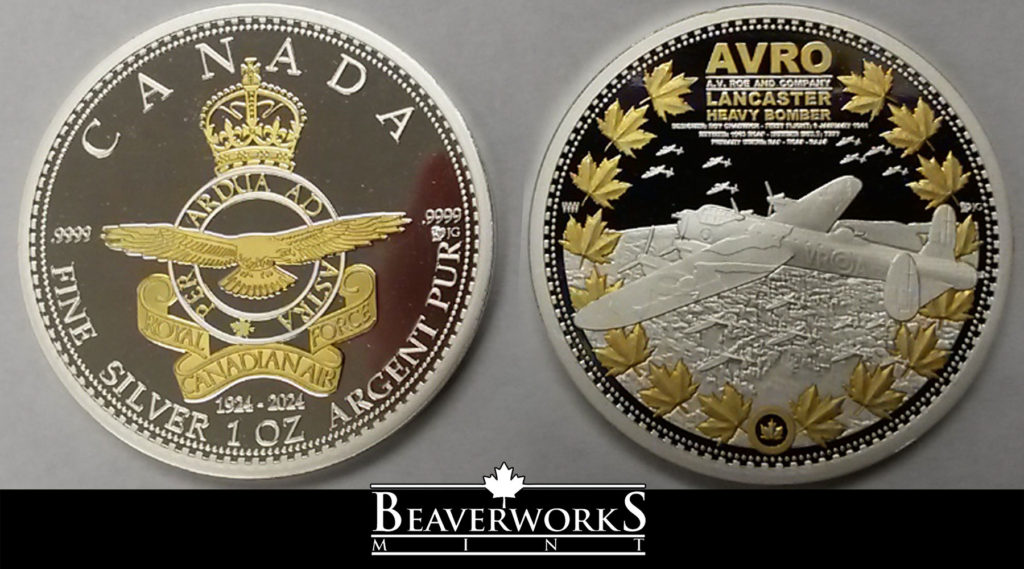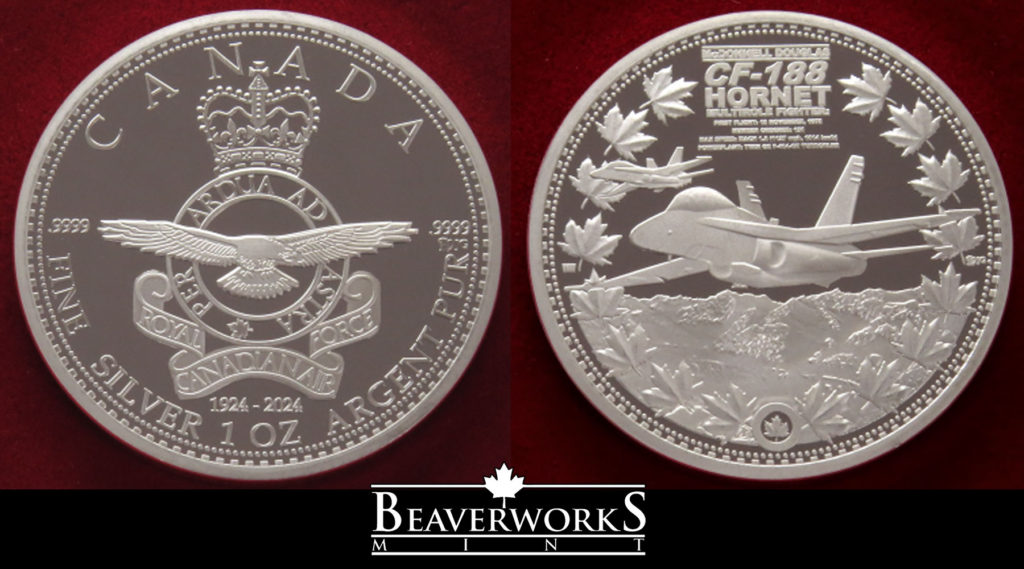 22 February, 2017
We are pleased to inform everyone that the Lancaster and Hornet coins are nearly completed. This has been one of the most humbling experiences to preside over the development of these two lovely coins dedicated to the Mynarski Memorial Lancaster V(e)RA and the iconic Hornet. Once these are finished with the process of select gold plating, full colour printing and serialized edge markings, we will begin shipments to our amazing collectors. We would like to extend our deepest thanks and gratitude to everyone who has supported us and our efforts to honour the legacy of the Royal Canadian Air Force. As a small group, we try our best to punch above our weight class, both in quality of work, but also in customer service. Our success relies upon word of mouth referrals and we do everything possible to respond with the same level of professionalism found within the quality of our work. Slowly as time goes on, we expand our catalog and infrastructure, it is our hope that these turn around times will significantly decrease.
We will be releasing the next coin in our collection shortly: our Canada 150 coin. Please stay tuned for that. We will also begin to update our website so please stay tuned for these exciting changes. As the leader of Beaverworks, I hope…truly….I sincerely hope that our work found within these coins….have met with the approval of all Canadians. It is an exceedingly heavy burden to undertake something of this magnitude, not in terms of the costs we incur, but living up to the sheer magnitude of honour, integrity, valour and nobility set by those who have paid the ultimate sacrifice in the service to Canada. With the impending arrival of the Lancaster, dedicated to honour and memory of Andrew Mynarski VC, and all those who have served in WWII in Lancasters, the burden to ensure we get it right, is suffocating. We just hope that our work can meet the standards of honouring those who set the bar of strength, honour, nobility and integrity found within the Royal Canadian Air Force. We truly have done everything humanly possible to mint the finest coins in the world and we hope it shows.
Sincerely,
Joseph Green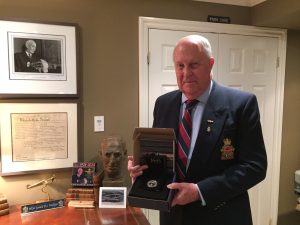 17 December, 2016
We are open for business and we will immediately ship any orders processed for any Christmas rush order.
19 November, 2016,
We have finally finished shipping out the first batch of coins from our next major batch. We have begun to ship the Hawker Hurricane, Supermarine Spitfire Misprint and Silver Dart. This latest chapter has been a pleasure and honour. Here is the grandson of J.A.D. McCurdy, HCol Gerald Haddon holding his copies of the two coins I gave him as my way of thanking him for allowing me the honour and privilege of commemorating his grandpa for being the first man to fly in Canada and the British Empire….J.A.D. McCurdy had Pilot's license number "1". Indeed an honour. We have been tirelessly working towards completing the next coins in the Lancaster and Hornet and they are in production.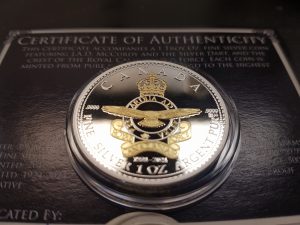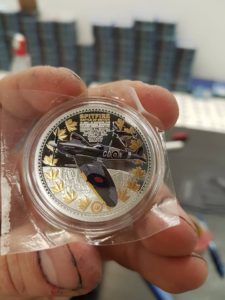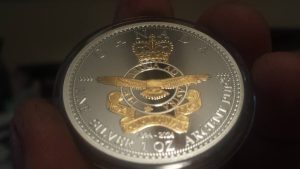 We are working as fast as we can to keep advancing in the production of The 100 Collection. We would like to extend our deepest regards and thanks to everyone who has expressed their support with our collection and we look forward to shipping out orders as time goes on. Currently we have the Arrow, Hawker Hurricane, Supermarine Spitfire Misprint and Silver Dart in stock and we ship orders within 48 hours. Once the Lancaster and Hornet arrive, we will ship them out to our lovely collectors who have been exceedingly patient and super supportive. There are no words to express our love for you all. From across Canada, we have been exceedingly fortunate to be on the receiving end of such amazing support and there are no words to express how grateful we really are. We may be small, but in typical Canadian form, we punch above our weight and we hope our work demonstrates that.
We are in the process of updating our website and so please stay tuned! Once again, thank you to all for all your support.
Sincerely,
Joseph Green
President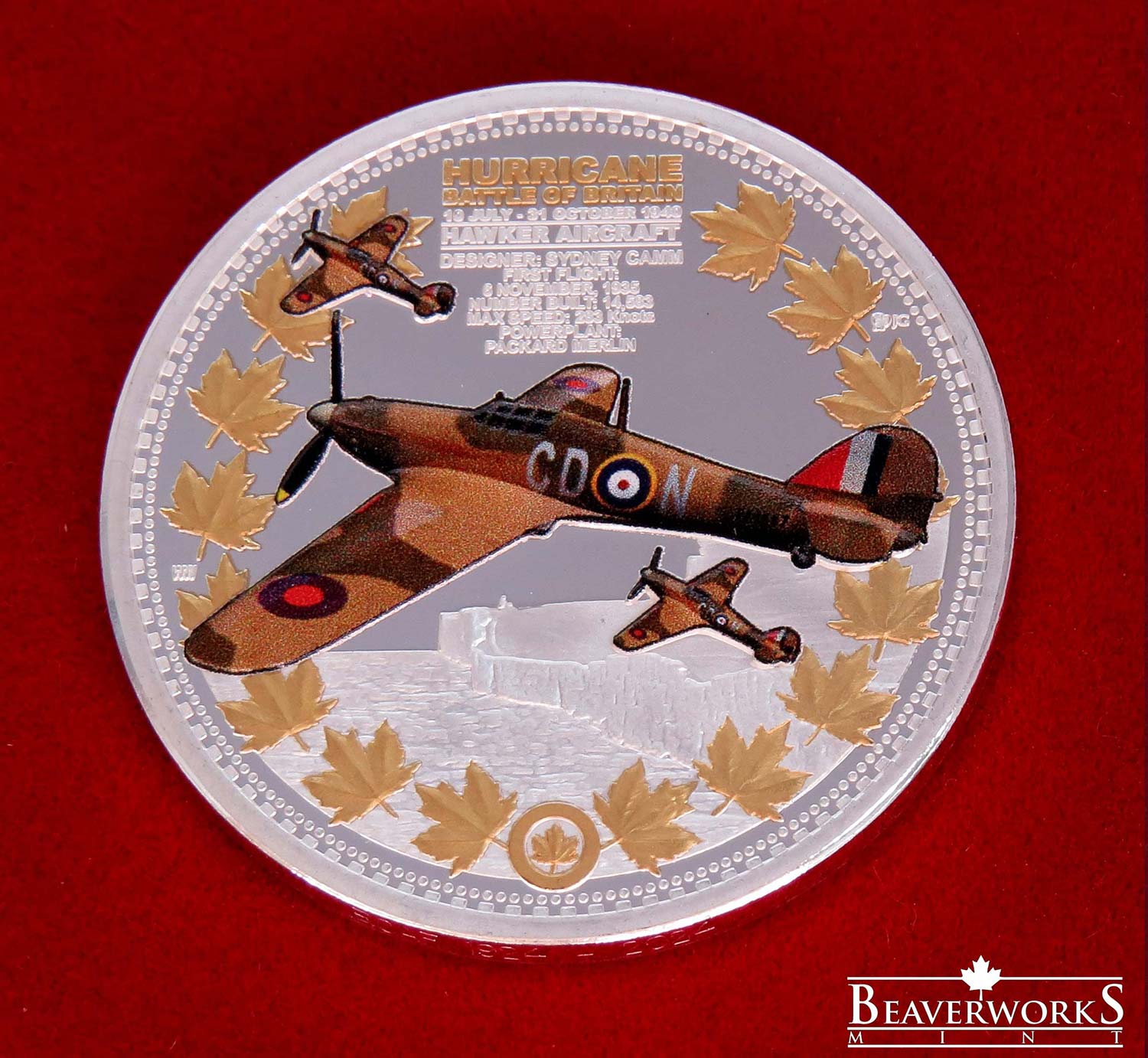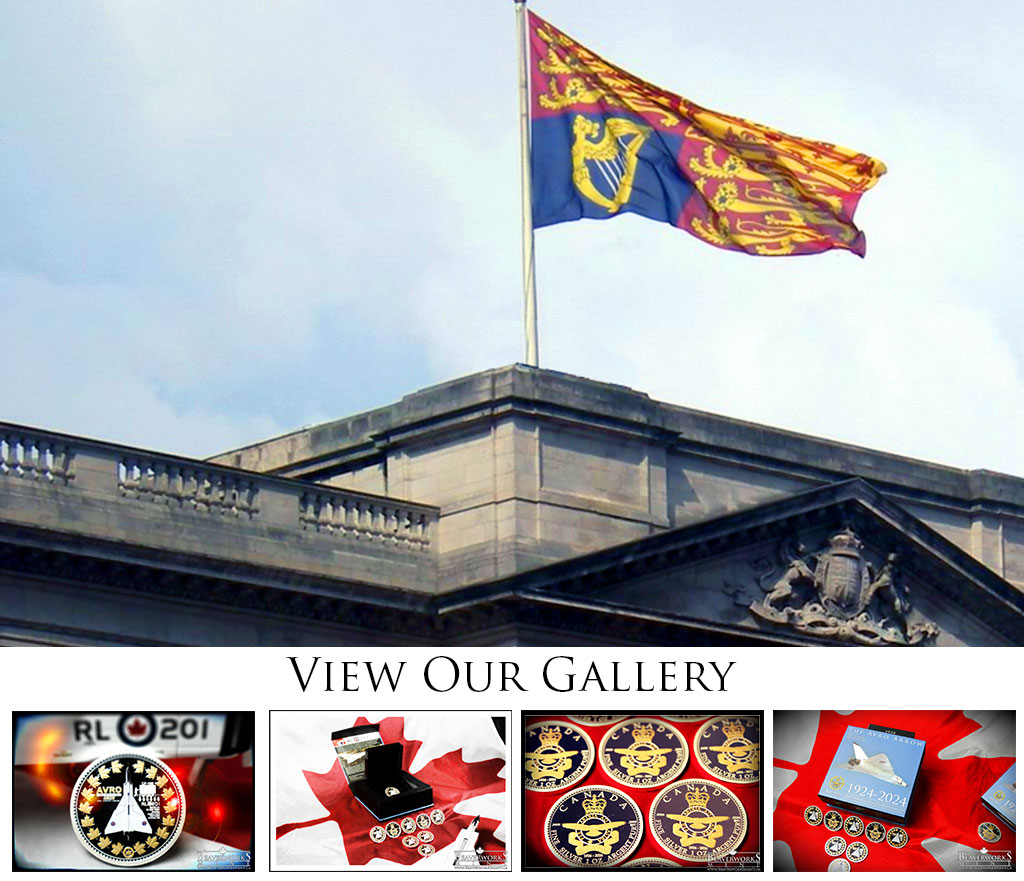 Welcome to the Beaverworks Mint. We are a small, private group that has an agreement with the Royal Canadian Air Force Association under a sub-licensing agreement to reproduce the protected markings of the Royal Canadian Air Force and we are dedicated to producing world class minted, fine silver coins dedicated honouring the history and legacy of the Royal Canadian Air Force. We are one of the few groups in Canada legally authorized to reproduce the protected markings of Royal Canadian Air Force which bears the crown of Her Majesty Queen Elizabeth II. We have recently concluded our first soft opening of selling our first batch of coins dedicated to the famed Avro Arrow. We are now excited to announce that we are now ready to proceed with our next stage of our expansion and adding 5 more coins to our catalog: J.A.D. McCurdy and The Silver Dart, the Lancaster Bomber, the Supermarine Spitfire, the Hawker Hurricane and the CF-188 Hornet.
We have embarked on producing world class, elite level, fine silver minted coins. We have been patient, methodical and precise in our development to ensure a responsible growth and work tirelessly to establish ourselves as committed to the finest in quality and customer service. With our first group of collectors, The 250 Club, they have been exceedingly patient and supportive of our work and we are announcing that we are making some changes to our collection to add value to your purchase. If you were one of the first collectors of the Arrow coin and are interested in building your collection, please contact us and inquire about securing the same serial numbers. We will do everything possible to accommodate. 🙂

Over the last few months, we have been working tirelessly to lock down the artwork and our master senior sculptor William Woodruff has been kept very busy sculpting the next coins we are issuing. We are a small outfit with big ambition. The process is slow and methodical, but worth it the investment of time, patience and resources to honour the history of the Royal Canadian Air Force. As time goes on, we look forward to expanding our collection and telling our stories about our country and those who serve.

We would like to extend our deepest thanks to each and everyone who believed is us to bring our first coin issue to fruition. We have spoken with many of collectors and we are deeply honoured for such amazing feedback! We have poured our hearts and souls into our work and we are truly humbled to be so warmly received by so many and we are honoured to have been written about in the Canadian Aviator Magazine! Thank you. 🙂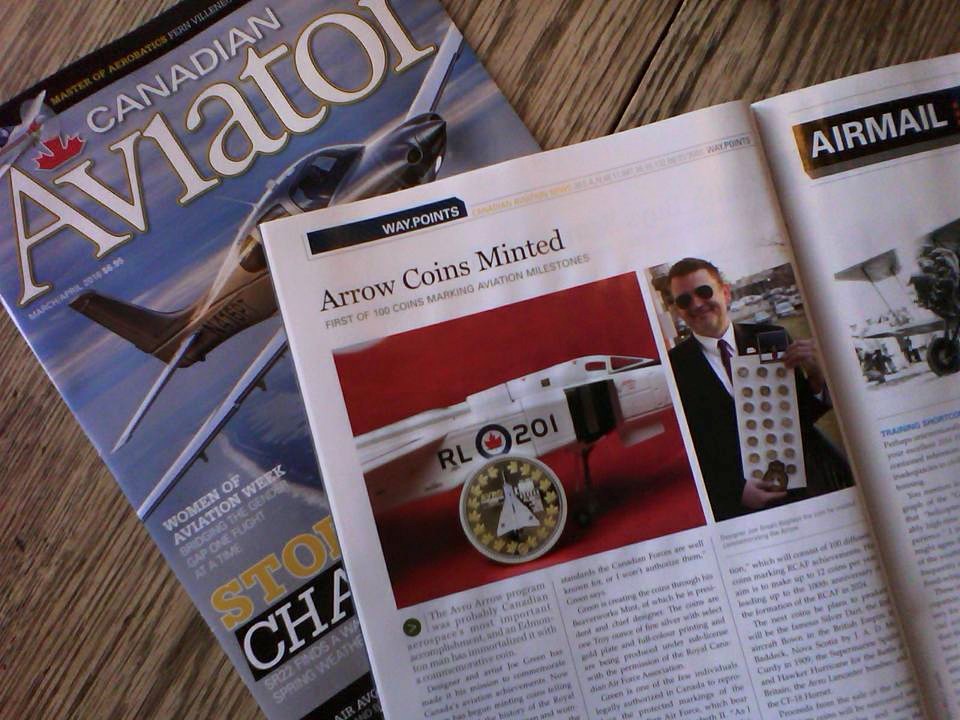 The Supermarine Spitfire Misprint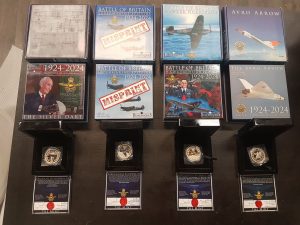 We would also like to announce that we are honoured and exceptionally proud to be working with to support the vision of a stellar superwoman: Ms. Vicki Torrie. She is a proud member of the Royal Canadian Legion (as am I now for 13 years) of the Edmonton Kingsway Branch #175 and she is working with us to help sell our coins to the Legion members. For every coin that she sells, we will allocate %5 of a royalty which at her request will be donated for the specific intention of paying down the principal of mortgage. The Legion is such an important organization here in Canada and helps out so many Veterans and she is an amazing woman, filled with heart to heart hugs and it is a privilege to work with her.  She also leads a group titled Supporting Our Veterans and we are helping her group out in any and all ways we can. We are donating one of our coins to a fundraising gala she is organizing.